Domain Registry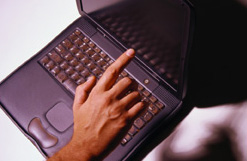 'Don't sweat the small stuff' doesn't apply to your domain names.
A lot of business owners let employees handle their domain name registration and other small details while he or she focuses on the bigger picture. But once that employee leaves, and no one knows the domain passwords or contacts, the small stuff quickly elevates to "big stuff" now that your website is off the Internet and the workflow is interrupted due to the non-functioning email addresses you have running through your website.

It can sometimes take days or weeks to sort all of this out and get your website back online.

Our clients count on us to manage their domain names so this crucial part of their website is always safe and on track. We also take care of the cumbersome details of pointing your domain name(s) to your website hosting company and your email addresses.
Who we serve
Edery Technology has provided expert Domain Registry services to clients for more than 18 years. Our IT company provides solutions to a wide range of businesses and industries that include real estate, law firms, health care, insurance, financial and more. We proudly serve clients in Virginia Beach, Chesapeake, Norfolk, Portsmouth, Suffolk, Virginia Peninsula, and throughout Hampton Roads.
Our Reputation
Dependability
• We are responsive and accessible. It doesn't take us 3 days to get to you.
• We respond immediately to emergencies. When a client's server went down in the middle of the night, we worked on it so everything would be up and
running when the employees arrived the next morning.
Knowledgeable
• All of our IT techs are A+ certified by Microsoft.
• We keep up with the trends and technology so you don't have to.
• Clients count on us to advise them on what's good and what isn't.
• We train our customers on the products we provide.
Trusted Advisor
• Clients routinely call owner David Edery for valuable advice, which he gladly provides even when there's no business in it for his IT company.
• We are totally focused on helping our clients gain ground.
• Many of our clients have been with us for more than a decade.


If your IT is causing headaches and money, we can help. Simply contact us at (757) 461-0200 or click here find out how our IT company can solve your IT needs.

---

About our IT services
Since 1994, Edery Technology has specialized in IT set up and maintenance, planning and analysis, cloud computing, small business telephone systems (VoIP), wireless phone systems, remote desk top and onsitesupport, server network installs, server upgrades, maintenance and IT support; disaster, backup and data recovery; domain registry services, customer database applications, web based applications, office WiFi, email spam protection, wireless router setup and configurations, and small business and office based computer servers. We serve businesses in Virginia Beach, Chesapeake, Norfolk, Portsmouth, Suffolk, Virginia Peninsula, and throughout Hampton Roads.
---
Click to contact Edery Technology today to find out how we can solve your technology needs or call us today @ (757) 461-0200